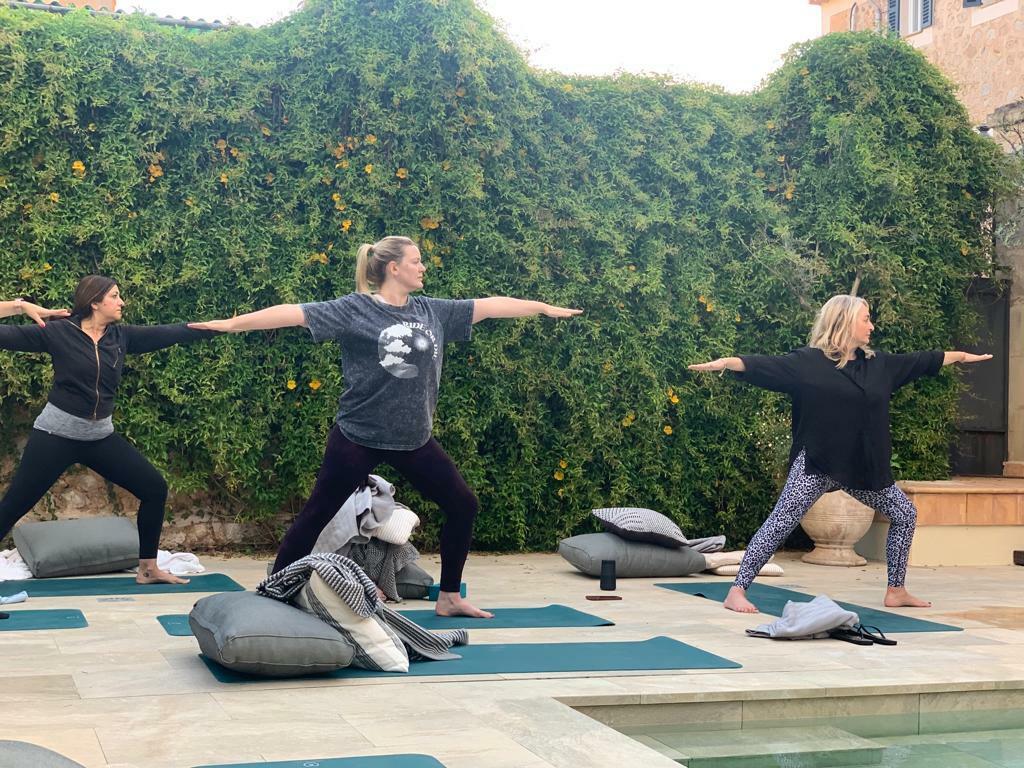 Journey to Inner Harmony: Mallorca's Soul Transformational & Healing Retreats
21 Jul 2023
A healing retreat, (also known as a transformational retreat) is an important respite from your busy life that you set aside just for you. Recognising that you need a break from your day-to-day grind is an achievement in itself. It's time to reward that realisation with a transformational and healing retreat set in a luxury villa in the heart of idyllic Mallorca, Spain.


What are the benefits of my healing retreats?

Healing retreats are about the journey you are on and how to find perspective and peace in a world full of noise. My transformational and healing retreats are all about taking time to invest in you and your personal development. You spend every moment investing in your family, relationships, work and future, but what is the use without balance, fulfillment and purpose? I will guide you back to your true self and help you break free from any beliefs that stand in the way of unlocking your true potential. Keep reading to learn how my healing retreats will teach you how to live an abundant and vibrant life by appreciating, accepting and loving who you are.

Rachel William from Wales said, "This was the best decision I have ever made. The whole experience was amazing from the moment I arrived at the villa until the final evening. It was powerful, informative and great fun. I met a wonderful group of people who shared the same challenges and experiences as I. Each day I would join the meditation sessions followed by gentle yoga and this set me up for the day. The week was split between learning, pure relaxation and mindful movement."


What is included in my transformational & healing retreats?

Immerse yourself in the unspoiled charm of this Mediterranean gem, where the soothing sounds of nature create an ideal backdrop for your healing journey. Our retreats are designed to harmonise with the natural beauty and serenity of Mallorca, enhancing the profound impact of your transformational experience. When you step inside the picturesque villa, I want you to feel at home and with all your comforts taken care of. My wellness retreats work as an all-inclusive experience with mouth-watering meals served three times a day.

I will guide you through a transformative and rejuvenating experience at our villa, offering a carefully curated series of activities. These include invigorating yoga and meditation sessions, therapeutic art sessions, guided journaling, Chakra toning, refreshing mindful walks, and Reiki healing. Each activity is thoughtfully designed to reconnect you with your true self, empowering you to embrace new daily habits that will positively transform your life. Above all, this retreat encourages you to cultivate self-appreciation and kindness towards yourself.Our healing journey doesn't end there. After your stay, we will gather for a virtual group follow-up session. This is a wonderful opportunity for each participant to share their progress and individual paths to self-healing, fostering a supportive and connected community.

Find out how you can transform your life today. Reserve Your Spot Now!

If you're curious about what lies ahead in our next retreats, get ready to embark on a journey that can change your life. Each retreat is a unique opportunity to discover new perspectives, embrace personal growth, and create unforgettable memories. Don't miss out on the chance to find your ideal life today. There's a retreat waiting just for you.

Are your goals focused on investing in your personal development and well-being? If so, have you considered joining me on The Wellness Within Retreat? It's an opportunity for a deeply nurturing experience where you can learn the cornerstones of wellness. During this retreat, you'll discover how to relax, refocus, and re-energize your mind, body, and spirit..

In case you find yourself feeling stuck and as if you've given away your personal power, The Show Up and Shine Retreat is precisely designed for you. This transformative retreat focuses on helping you regain your confidence and break free from any career or life limitations that may be holding you back. Get ready to learn how to design the life you truly desire and shine bright in every aspect of your journey.

Lastly, Do you know what 'come home' means? It entails creating a safe space for yourself, allowing you to step outside the comfort zone you've designed. It also involves prioritizing healing from any conscious or subconscious hurts to facilitate a transformation of your inner self. Through My Coming Home Retreat, I will guide you back to your true self and help you embark on the path towards the life you desire.
It is truly challenging to fully capture and convey the profound healing and transformative nature of a wellness retreat and the remarkable positive changes it can bring into your life. I would love to arrange a one-to-one phone call, where I can wholeheartedly address your inquiries and offer a deeper understanding of the empathic and powerful healing effects of my wellness retreats. Book your free 1 to 1 introduction call with Gillian to explore how the retreats can help.